Wireless Transmission
Megapixel IP Cameras
CCTV Cameras
Watch Cameras
520TVL 90 Degree Pinhole Camera KP-MC495P
520TVL HD+ 90 degree view+ 0.008lux night vision+ mini pinhole cameras for warehouse, stores, home...
Features & functions:
It's an ultra small high definition CCTV camera with excellent night vision.
Size is 24X17X10.5mm only, Weight is 3g! Very easy to install and conceal.
Minimum illumination is 0.008lux, which can view clearly in almost complete darkness.
Full TV system. Applicable worldwide.
Use for Home and Business Security, Shops, Pubs and Restaurants, Building Sites, Warehouses, Boats, Marine Use, Sports use, Wildlife, Farms, Stables and Kennels, Surveillance and Covert use, Nursery and child care, Firearm.


Usage:
1) CCTV cameras can be used directly with a standard TV/VCR or RCA video monitor;
2) To view more than one CCTV camera on your TV/VCR you will need a quad or multiplexer;
3) To view on your computer or laptop you will need a DVR card or USB;
4) CCTV wired cameras can add a 2.4GHz wireless transmitter module,then it can work with wireless receivers.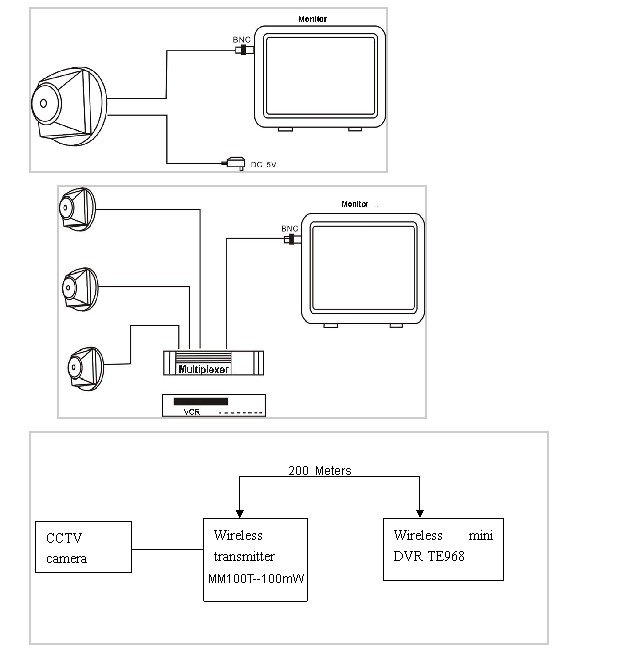 Specification:


Package contents:
Mini camerax1
RCA/BNC Cablex1
AC adapterx1